If you are looking for the best underwear for men to relive chafing then you need to look for a fibre that is breathable and sweat absorbing as sweat is a common factors that causing chafing.


Thanks to the advances in fiber technologies, new fibres have been specially developed to wick away moisture from the body (similar to how a candle wicks away wax). One fibre that has been developed for this reason is COOLMAX®.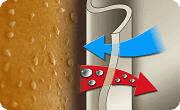 COOLMAX® is made from a 4 or 6 channel fibre which forms a transport system that pulls moisture away from the skin to the outer layer of the fabric. It then dries that moisture faster than competitive fabric and thereby thermoregulates the body by a process called evaporative cooling, thus creating a breathable and moisture wicking fabric.
Sweating is one of the body's natural mechanisms to stay cool. Engineered with special technology to wick moisture and enhance drying, COOLMAX® fabric helps you stay dry and energized – exactly what you need to feel comfortable not only during the day, but also throughout your exercise routines.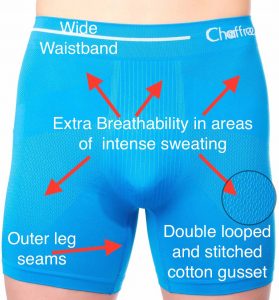 Chaffree underwear is made from COOLMAX® fibre and has the added benefit of being a lightweight, quick drying, easy care fabric that is machine washable.
Chaffree mens boxer shorts have varying degrees of absorbency throughout their design to manage the more heavier areas of sweating.
The boxer shorts have been made on a  seamless machine and have a sewn in double looped cotton gusset which goes along the whole of the inside leg to aide breathability around the crotch area. The seams of the gusset have been sewn on the outer leg rather than the inner leg to avoid rubbing and the build up of friction whilst walking/moving. The fibre is stretchy and whilst it is a delicate fibre, it has the benefit of being durable and colourfast throughout hundreds of washes.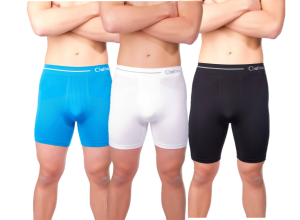 Chaffree mens boxer shorts are available in Short (5″) and Long (7″) leg lengths in Sizes Small-3XL (28″-56″) and are available for worldwide shipping.
If you want to give them a try, you can buy today at Chaffree.com