Description
Anti Chafing Sweat Liner  Features and Benefits:
Lightweight, quick drying and machine washable
Keeps skin cool, dry and comfortable through high-performance Coolmax® wicking fabric
Latex and Silicone Free
Anti Bacterial properties
Gives relief from irritation, sweating and chafing
Lightly padded for a more comfortable fit
Fits under any bra style (no hooks or silicone strips required) wired or non-wire
Sizes Small (up to C Cup) and Large (D+ Cup)
Versatile can be worn in most areas that have a garment on-top securing it in place
No irritating labels
Soft flexible fabric
Available in 1, 3 or 5 pack(s).
Multi-Packs are made up of a variety of colours in stock (usually White, Black and Nude) You can add a note when you order specifying the colours you prefer and we will do our best to accommodate.  This is subject to stock availability and cannot be guaranteed.
Breathable, Moisture Wicking Sweat Liner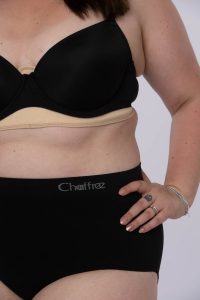 A premium garment designed for comfort without any compromise.
Helping you to stay cool, dry and in control, reducing the worry of sweating and chafing throughout your day whether it be work, rest or play.
Constructed from the high-tech moisture management fibre Coolmax® used throughout the Chaffree range. These sweat liners come in  2 designs to allow you to benefit from sweat relief where you need it the most.
Sweat Liner Band and Sweat Pads(Pack of 2),
Sizes (Large and Small)
3 colours (Black, White, and Nude)
The CoolMax® fabric is breathable and wicking with inbuilt moisture management system that keeps users drier and cooler when they start to perspire. The COOLMAX® fabric moves and transports perspiration outside of the body where it quickly evaporates thus reducing the skin to irritation and other attributes (rash, redness, friction) that cause the skin to chafe, leaving you to get on with your life in comfort and confidence.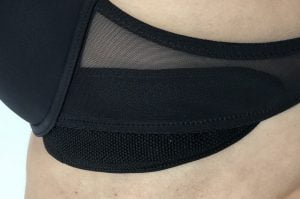 You will be amazed at how much moisture these sweat liners hold and how quickly they dry once machine washed. These sweat liners have been specially designed so that areas of more intense sweating/perspiration are dealt with quickly and effectively. *After wearing for many hours you may need to change the sweat liner to continue the benefits of sweat relief.
Sweat Liner Band – After putting on your bra, slip the liner underneath, placing the top portion of the liner inside your bra cups and the tab centered between your breasts. Pull tab through, so it is lodged between the breasts. The bottom of the liner will sit along the band of your bra or slightly below if preferred. These sweat liners are slightly padded so if you have had surgery or are already suffering from sores and chafing they will act as a protective barrier against friction and will relieve further sweating.
They come with their own wash bag for quick washing and to protect the garment from other harder fibers and machine damage. We highly recommend that you wash after every use.
Colours
                    Black                                    White                                  Nude

Sweat liners are ideal for women or men of any size, age, shape or fitness and can be worn with any style of clothing.  Please note they are NOT A MEDICAL GARMENT, their aim is to help relieve sweating and ultimately chafing to help you feel more comfortable in your clothes. If you do suffer from excessive sweating or your skin has open sores then you must seek medical advice.
Please see our size chart and returns policy before purchasing.