Description
Bra Extenders  Features and Benefits:
Extra long 4 Hooks in length (longer than the average which is 3 hooks)

No sewing required, simply hook onto your bra

Comfortable fit – no labels

Opaque

Nylon with soft PLUSH BACK. Comfort to your sensitive skin

Durable, Machine Washable and Colourfast

4 rows deep with the option of 2 or 3 hooks wide

2 hook 4 row: length is 8.5cm,  width is 3.5cm

3 hook 4 row: length is 8.5cm, width is 5.5cm

Can be used on any bra size or style as long as it has a hook and eye fastener

Available in Multi Colour 3 pack includes colours Black, White and Nude (beige)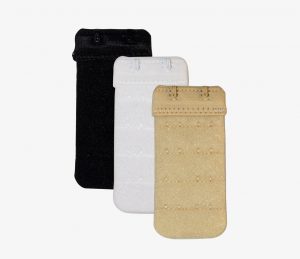 2 or 3 hook Bra Extenders
Perfect for when you need a little extra slack to your bra band, these 2 or 3 hook bra strap extenders are ideal during weight fluctuations, when in-between sizes, needing more space after surgery or during pregnancy, helping your bras last longer and ultimately helping you feel more comfortable in your bra.
Available in a 3 pack with colours black, white and nude (beige). These extenders work with any bra as look as they have hook and eye fastening, eliminating the need to buy a whole new set of lingerie when you temporarily need a little extra room.
Available in 2 hooks wide or 3 hooks wide, these bra extenders are 4 hooks in length which are longer than average at 8.5cm, giving you plenty of extra extension to your bra.