How Underwear Can Help Relieve Chafing Immediately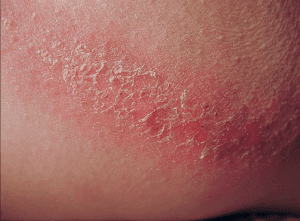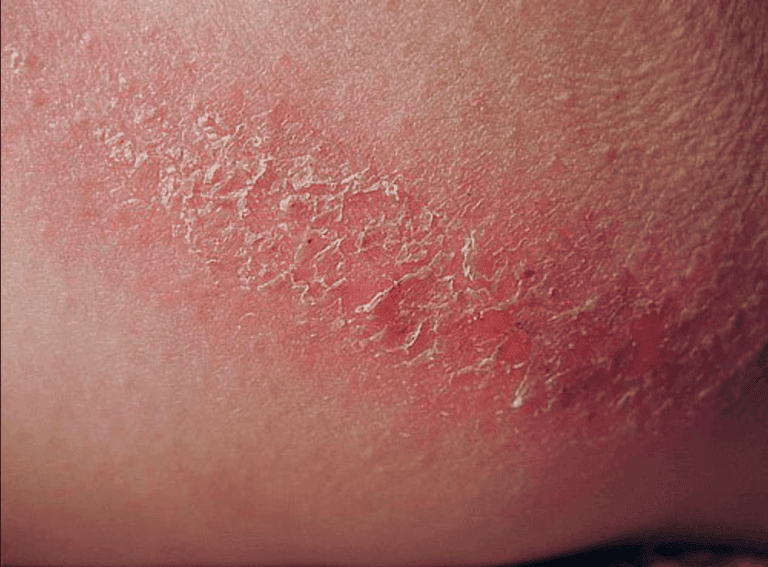 Chafing is an uncomfortable problem many of us often have to put up with. It can be caused by friction of movement, like your thighs rubbing together as you walk, run, by wearing tight or poorly fitting clothing, rough fabrics or from excess sweating.
Underwear especially can exacerbate the issue, by causing excess moisture and creating uncomfortable rubbing against your skin, particularly in the summer months, or in humid atmospheres.
When chafing occurs, it causes painful redness and sore patches of skin that can take weeks to heal, hampering your level of activity and greatly damaging your comfort level.
So what can you do to stop it all?
You don't have to put up with chafing these days, as luckily there is a solution, and it's a pretty simple one too.  The answer is to invest in underwear specially designed to combat these problems.
Comfort underwear made from an advanced high technology fabric like Coolmax, will enable air to circulate with greater ease.  This type of underwear has been designed to wick sweat away from your body and discourage the moisture that can contribute to chafing and skin infections.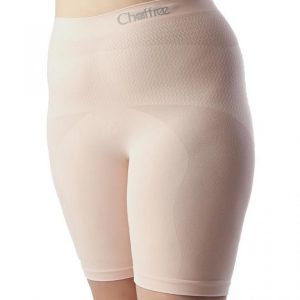 Take this pair of Ladies anti chafing shorts, made with an enhanced double looped gusset of cotton on one side, and special moisture wicking CoolMax, on the other. This cleverly designed gusset aids healthier air circulation, and the CoolMax on the outside enables excess moisture to evaporate with greater ease.
The material has a soft, luxury feel and has been engineered to maximize comfort, tackle moisture, and help keep you cool and dry, even in ultra-humid conditions.   Perfect for wearing under summer dresses or skirts, these pants would also be ideal in the gym, yoga class or even for everyday wear to work.
The comfort factor is high, as the Knickerboxers are virtually seamless, with the only seams flat and positioned on the outer leg for additional ease of wear, comfort, and performance.  These clever pants are the ideal pick if chafing is a problem, and won't show through your clothes, so the days of worrying about VPL are also gone (just like your chafing).
The length helps to relieve the problem of irritating thigh chafing, by adding a snug fitting yet a comfortable layer of protection that always feels easy to wear. Stretchy and durable, they won't fall apart, even after a good few washes, and are so lightweight you won't even know you've got them on! They have been specially designed not to ride up the leg and are available in different leg lengths as we all know one size does not fit all.
Guys too, shouldn't be left out, as they need to feel comfortable at all times too.  Excess sweat and moisture can cause nasty bouts of chafing, and that dreaded sweaty crotch feeling which can occur, particularly in hot weather, when working out, or in a stuffy centrally heated office.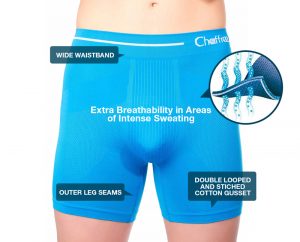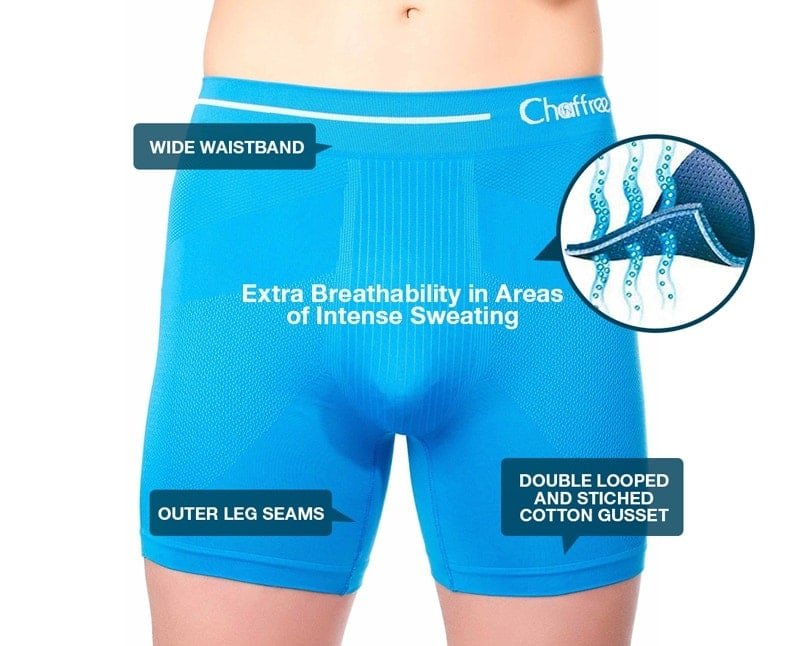 That's where these Chafe Free Men's Boxer Shorts come in handy.  Simply slip on a pair of these in the morning and the advanced technology fabric will ensure a healthy circulation of air all day.
Carefully constructed from high performance Coolmax, with a double woven cotton/CoolMax gusset, they help keep things breathable.  Their anti-bacterial properties also discourage skin infections, by creating a more hygienic environment, halting the growth of unhealthy bacteria.
If you're serious about tackling the problem of chafing, breathable, specially designed underwear made from an enhanced fabric like this is a must.  Not feeling comfortable is the one thing that can really spoil your day, whether you're at work, on the sports field, or playing in the park on a summer day with the kids.
Investing in a few pairs of high-performance underwear will help ease chafing and make a dramatic difference to your comfort level right from the very first wear.
Getting your underwear right is often even more important than what you wear on top, to prevent any problems and max your comfort with the new breed of smart, high –tech, anti-chafing underwear. You know what they say…prevention is far better than cure!