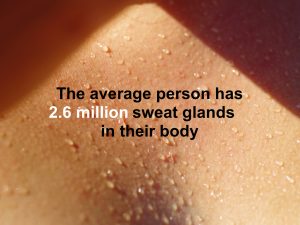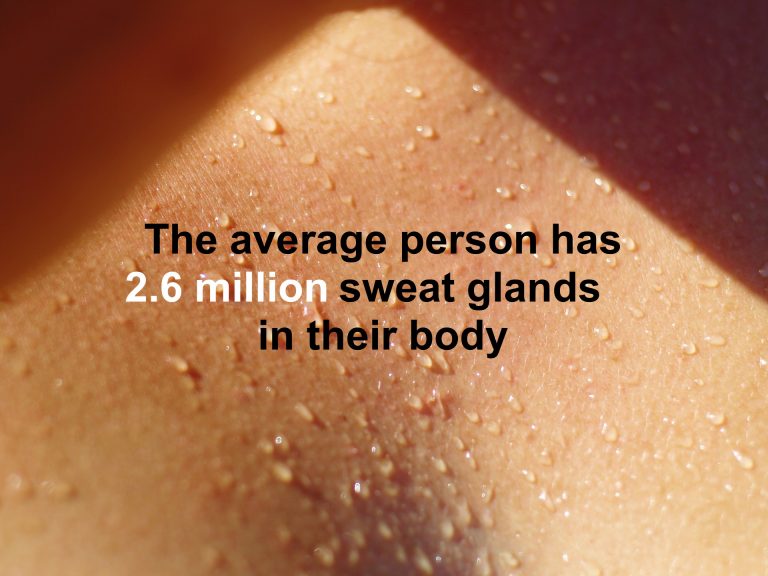 Spot the difference – Wicking versus Moisture absorbing fabrics
Everyone sweat, with over 2.6 million sweat glands on your body it would be hard not to. Excess sweat is a problem for most of us at times, but left unchecked it can cause skin irritations, chafing, sores, and even nasty yeast infections, let alone the embarrassment and smell of sweat patches.
There are a couple of different options for dealing with this uncomfortable and embarrassing issue; wearing fabrics with special wicking properties, or choosing a moisture absorbent fabric.
But what are the key differences between the two?
Wick away your sweat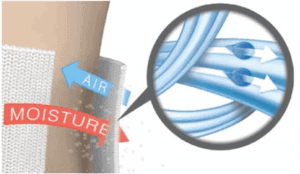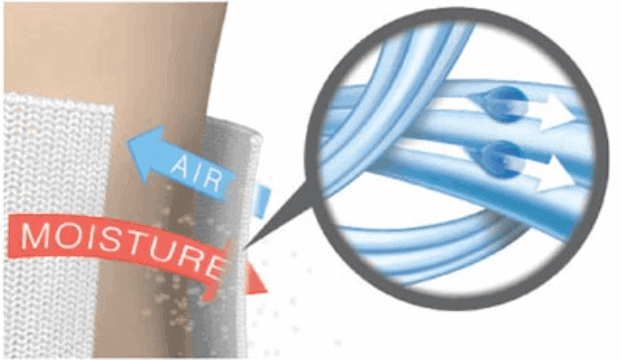 Wicking fabrics are designed using high performance synthetic fibres that have been treated with a special solution that helps the fibre absorb less moisture.  This specially treated fibre is then knitted into a fine hydrophobic network, which repels water, helping to keep sweat away from your body, and enabling moisture to evaporate faster.
The special fibres in wicking fabrics are engineered to channel sweat particles swiftly away from your skin to the outer layer of the fabric, where they are exposed to the air.
Wicking fabrics will encourage breathability and keep you feeling cooler than moisture absorbing fabrics, as they help sweat leave your body quicker, preventing that clammy sensation.
Ideal for all situations, from an exercise class to a busy day at the office, wearing underwear or sports gear made from this type of material will enable your body to better circulate air.
Wicking fabric tends to feel lighter than moisture absorbent fabrics when worn, helping you to stay more comfortable all through the day, especially when you're active.
Soak it up
Moisture absorbing fabrics on the other hand, are constructed using fibres specially designed to absorb more sweat. They can be made from either natural fibres like cotton and Bamboo Viscose or synthetic ones, such as Tencel, or micro-modal.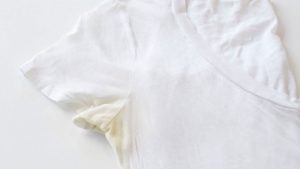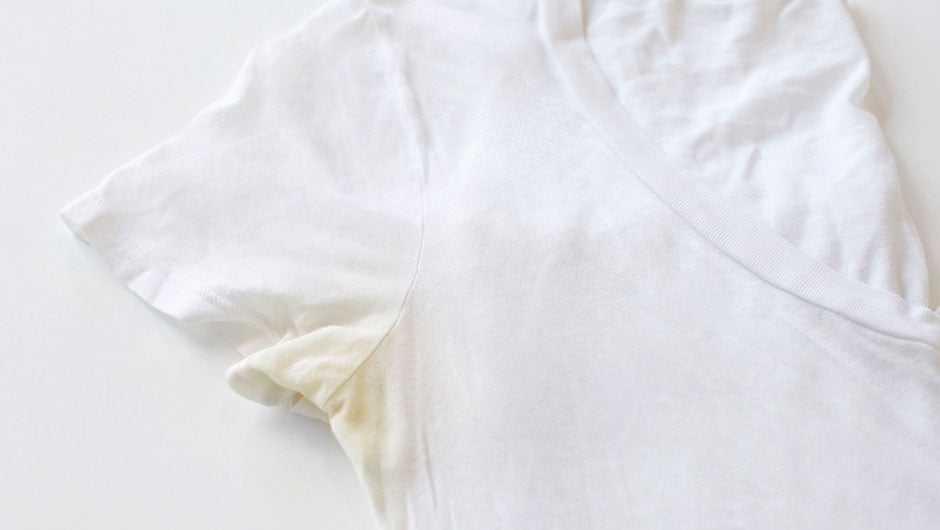 If you are concerned about visible sweat patches on your clothing, moisture absorbing fabrics are a good choice as they are designed to collect moisture quickly in a concentrated area but they are prone to staining over time and hard to eliminate the smell of odour after continued use.
Because they have a great capacity to soak up sweat, moisture absorbent fabrics can also feel heavy and clingy when worn, which is not ideal if comfort is a priority but with the advance in technology this will undoubtedly change in the near future.
Wicking fabrics on the other hand, help spread moisture over a much larger area, with a fine water repellant network that mimics your body's own capillary network.
Clever clothing designed to aid your body's own airflow system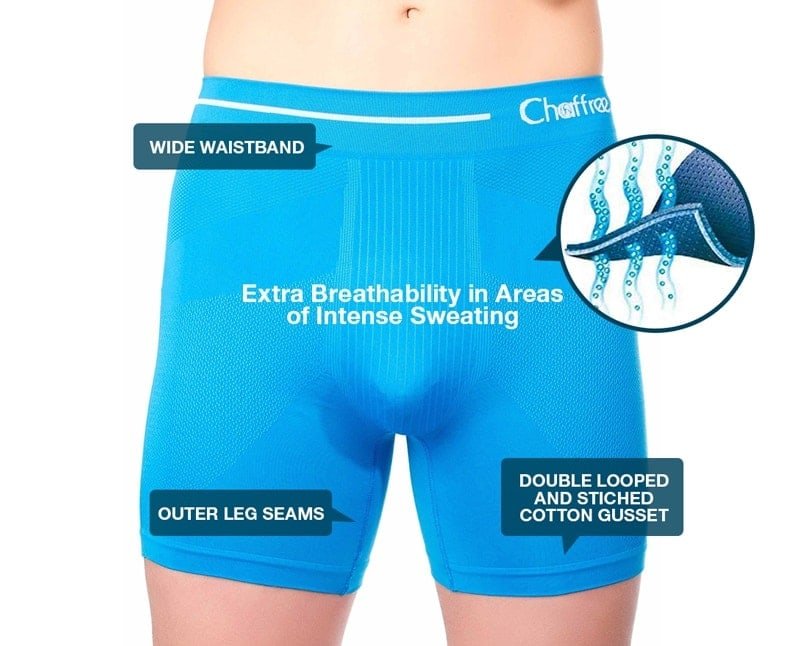 Wearing underwear or sports clothing made with special wicking fabric, like these Mens Boxer Shorts or these long leg knickers for women from high performance range Chaffree, will help combat the problem of excess sweat and aid in keeping you cooler and more comfortable especially if you suffer with issues such as thigh chafing.
The items in the versatile Chaffree range offer up something to wear for almost every occasion, from fitness classes to the school run.  Chaffree clothing is made with antibacterial Coolmax, which will help to prevent skin infections, and features an innovative double looped/woven Cotton/ Coolmax gusset for increased air circulation, breathability and better hygiene.
The clothing is lightweight and virtually seamless for added comfort, feeling like a second skin when worn, and has a high-end feel without feeling tight, controlling or restricting.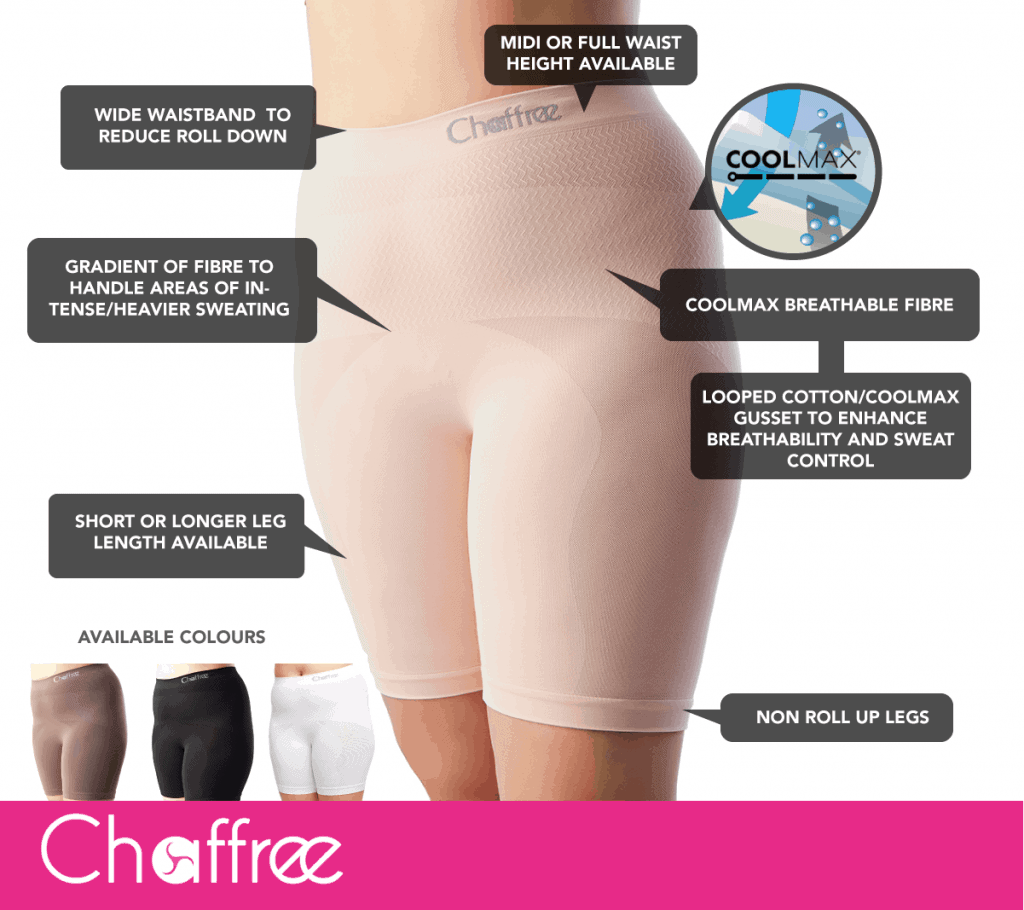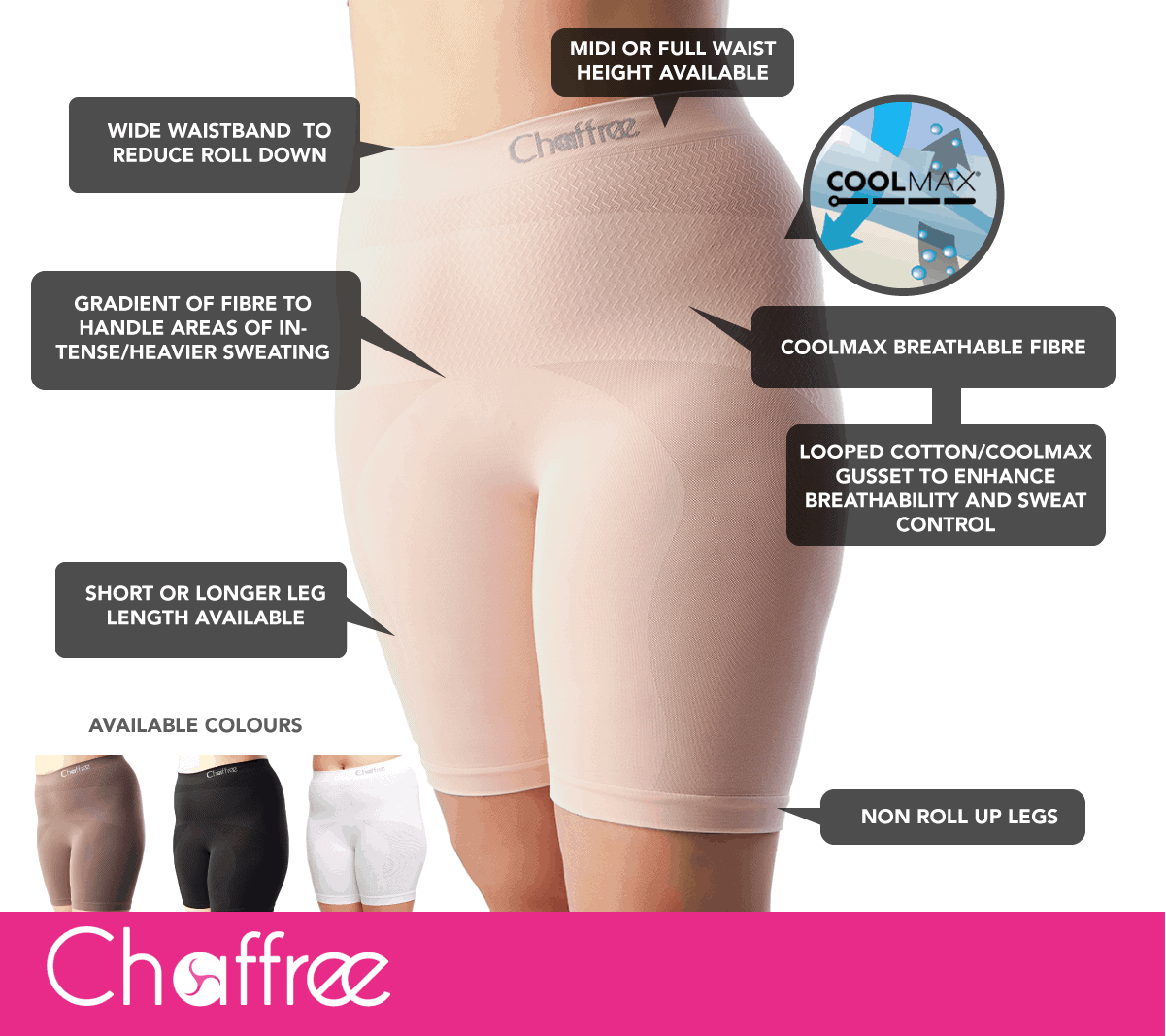 The close fit cut of the Chaffree products maximizes the hydrophobic network of fibres in the advanced Coolmax fabric, enabling them to better mimic your body's own built in airflow system. Fibers that don't sit snugly on the body cannot wick away the sweat as effectively, they need to be sat on the skin to be effective, therefore loose tops, t-shirts, underwear need to be sitting snugly (but comfortably) on the body.
While moisture absorbent fabrics will undoubtedly help to soak up sweat fast, wicking fabrics like those used in the Chaffree range are by far the superior choice if your goal is to keep sweat away from your skin, help moisture evaporate quicker, and prevent bacteria from lingering.
If you're working in a stuffy centrally heated office all day, walking around in the sunshine on holiday, or working out in the gym, underwear like this will maximize your comfort level and prevent sweat from spoiling your day and causing irritating discomfort and chafing.