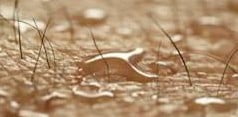 Hold on.. That can't be right. How can underwear that keeps you cool also keep you warm?
Answer… It's all in the wicking and breath-ability.
With the advances in fabric technology over the last few decades there are now high-tech fabrics specifically and uniquely engineered to keep users dry, cool and comfortable when they start to perspire. These are known as wicking fabrics.
Some people sweat more than others, but we all sweat. In fact, the average human has more than 2.5 million sweat glands on his or her body. If you wear underwear that wicks the sweat away (draws the moisture/perspiration through and out of the fabric) then you will remain dry and cool. If you wear underwear that doesn't wick the moisture away, then that moisture will be retained in the fabric (soaked up like a sponge) leaving you feeling wet and potentially starting to irritate your skin  (chafing) and become a breading ground for bacteria.
Once the air gets colder than your body temperature , you'll feel cold because your non wicking underwear is saturated and no longer providing any insulation.


Wearing underwear that has good wicking properties e.g. COOLMAX® and Thermocool not only keeps you cool and dry is also keeps you warm as the wicking fabric moves water away from your skin and up through your layers one after another, enabling the fabric near your skin to trap insulating air and retain your body's warmth.
Wicking fabrics are more commonly used in sports performance clothing but the new underwear range from Chaffree.com has brought wicking underwear to the everyday consumer with it's new range for men & women that includes  long & short leg boxer shorts, knickerboxers and briefs in sizes small – 3XL. Chaffree is made from the wicking fabric COOLMAX®.
So now you know. Wearing underwear that is made from a wicking fabric will keep you cool as well as warm enabling you to wear them all year round and throughout all seasons as they will keep you cool in summer and warm in winter.