Over the last few decades there has seen a much needed advance in the technical engineering of fibres designed to improve performance and comfort of the wearer. One of these such fibres is called COOLMAX® which is a trademark of Inviasta.
You may have come across COOLMAX® as since 1986 the fabric has been widely used in the sports industry with many top athletes benefiting from its ability to deliver an improvement in theirs sports performance enabling them push harder and longer as the fibres help to regulate the body's temperature. Some of these benefits include:
Breathable, Wicking Fabric With Inbuilt Moisture Management System

COOLMAX® is a high-tech fabric specifically and uniquely engineered to keep users dry, cool and comfortable when they start to perspire.
How it works:
COOLMAX® fabric pulls moisture away from your skin.
COOLMAX® fabric absorbs and spreads moisture out across fabric to enhance evaporative drying rate.
Air moves in to keep your body cool and dry.
Made from a 4 or 6 channel fibre which forms a transport system that pulls moisture away from the skin to the outer layer of the fabric. It then dries that moisture faster than competitive fabric and thereby thermoregulates the body by a process called evaporative cooling, thus creating a breathable and moisture wicking fabric.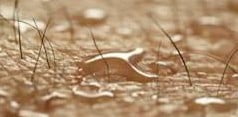 Sweating is one of the body's natural mechanisms to stay cool. Engineered with special technology to wick moisture and enhance drying, COOLMAX® fabric helps you stay dry and energized – exactly what you need to feel comfortable not only during the day, but also throughout your exercise routines.
COOLMAX® fabric appeals to all people regardless of age, size, shape or fitness, who prefer a cool, soft and high performance fabric that fits every lifestyle.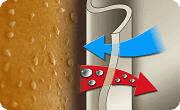 Moisture Management
COOLMAX® moves and transports perspiration outside of the body where it quickly evaporates thus reducing the skin to irritation and other attributes that cause skin to chafe.
Superior Overall Comfort and Extra Softness 

The fine denier of the special fibres used in COOLMAX® gives the fabric a very soft and supple feel.
Chaffree has developed a mens boxer short which is made up of 77% COOLMAX®  that has the additional benefit of a softness, luxury, stretchy, 'second skin' lightweight feel as well as being made on seamless machine which means that the only seam on the garment is the sewn in gusset which has been sewn in with flat outer leg seams. There are no labels, silicone or tags on the underwear and it is Latext Free.  Chaffree underwear can not only be used for sport and fitness, it can also be used  as an everyday garment. It really is the great all seasons, all-rounder.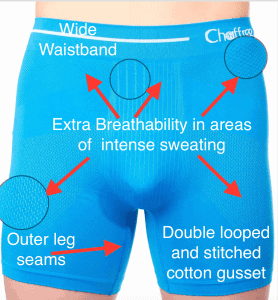 Chaffree garments have various intensity levels depending on which garment you choose, thus allowing for more absorbency in higher perspiring areas. They also benefit from flat outer leg seams, wide waistband and the gusset has been extended all the way down the inside of the leg with double woven cotton with COOLMAX® on the outside to allow for more absorbency and to aid the faster evaporation of perspiration adding to comfort and protection benefits. They are available in Short or Long Leg boxer short style and are available in sizes small-3XL 28″-56″ waist.
Many man (and women)  are now wearing Chaffree boxer shorts for running, walking, gym, football, cricket, tennis and hiking. Regardless of their fitness levels, those men are feeling the benefit of wearing sports underwear rather than their usual, everyday, polyester or cotton underwear which does not have all the attributes and benefits of COOLMAX® fibre.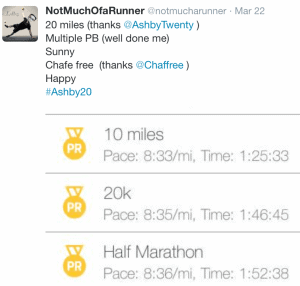 Keep your cool. Max your performance.
Click here to browse Chaffree Coolmax Underwear
If your sport involves running then please check out the #UKRunChat reviews over on Twitter and Facebook.