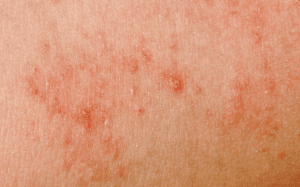 There is nothing worse than irritated skin which once scratched, can quickly lead to infected skin which then may need medical intervention.
Did you know that it takes approx 27 days for skin to regenerate itself?

Many health professionals have determined that the temperature and humidity of the skin are among the recurrent factors implicated in problems with infected or irritated skin. Most experts now recommend that you avoid wearing undergarments that don't let the skin breath. After much testing by reputable bacteriologists ad specialists in medical fields, COOLMAX® fabric seems to be the most appropriate answer.

The bacteriostatic properties in COOLMAX® help to maintain the balance of micro organisms which are present on the surface of the skin and essential to our health. COOLMAX® prevents the proliferation of harmful bacteria without destroying the bacteria that we need to be healthy. As COOLMAX® hasn't been treated by any chemical process and doesn't contain any bactericidal products, all the bacteriostatic qualities of moisture evacuation, will last as long as the product itself (tests conducted through more than 250 washes).
COOLMAX® Performance Assurance
The COOLMAX® label on any garment is your reassurance of premium performance. These garments are made from approved fabrics that meet the high standard of the certification ADVANSA requires from all manufacturers. Every certified COOLMAX® fabric is regularly tested to ensure continuing ADVANSA high standards. Thanks to these rigorous measures, COOLMAX® brand is only found on high performance fabrics, ensuring the consumer of a high performing garment.

You can find underwear and clothing made in COOLMAX® at Chaffree.com. Garments made for men and women in sizes Small – 3XL. Different leg lengths including short, regular and long and widths including standard and wide.
The ethos of Chaffree is that people should not have to compromise on comfort and supply clothing with all the comfort factors in that appeal to everyday people of all ages, sizes, fitness levels and agility with much care and attention focused on the design of the garments. They promote the benefits of allowing people to wear what they want, when they want in comfort and without compromise.
Please note that if your skin does become infected then you must seek medical advice as COOLMAX® and Chaffree are not medical treatments, they are fibres and garments that may help to prevent irritated skin.