Hate how you often have to choose between comfortable or stylish underwear? Wish you didn't get so hot and sweaty in the summer months or have to wear bulky clothing in the winter season?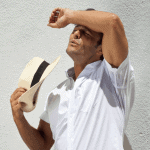 The solution?  Stylish underwear made with high performance fibres that have been specially created to adapt to your body's changing temperature.
Sales of clothing made from high performance, technical fibres are soaring as the special advanced fabric enable you to wear whatever you want – no matter the weather.  The cutting edge fabric is being snapped up by everyone from athletes to busy mums, and is now used in everything from outerwear to gym clothing, right through to our underwear.
Imagine underwear made from a fabric designed to keep you cool and dry when the mercury climbs but that can also adapt to help you to stay warmer in the winter months?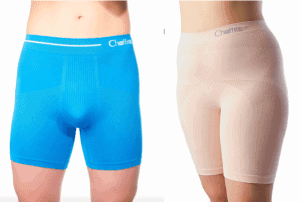 Now you don't have to imagine, with the new range of high performance underwear from www.chaffree.com. Come summer or winter you can stay dry, cool, and comfortable with advanced moisture wicking technology and anti-bacterial CoolMax fabric that's been expertly  tailored for a perfect fit-  every time.
Advanced fabric adapts to the changing seasons perfectly – layer up or down with ease
In the summer months, our bodies can overheat, causing us to feel sluggish and lethargic.  But in winter the chilly season often means wearing bulky, uncomfortable clothing, which can make us feel sweaty and uncomfortable when we go from outside to a centrally heated indoor environment.
Why resort to bulky, heavy fabrics when you can layer up with Chaffree's advanced technology instead?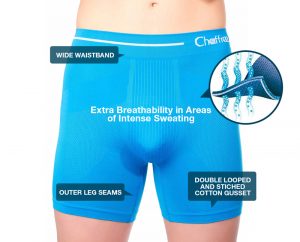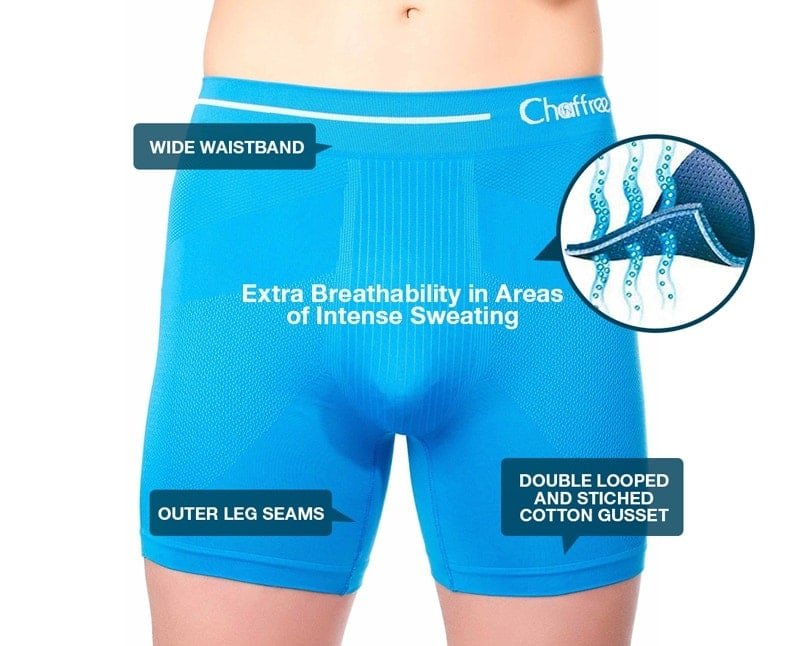 With Chaffree's advanced range of cool, contemporary styled underwear, you can stay comfortable and stylish.  Our streamlined and sleek underwear works hard around the clock to keep you cool, clean, and dry. Specially designed with CoolMax to target areas that have higher perspiration, Chaffree underwear can help prevent bacterial skin infections caused by a humid body temperature.
Chaffree underwear is:
Streamlined and stylish – created using high performance fibre technology
Cool and comfortable – made with special anti-bacterial CoolMax advanced fabric
Thermoregulated – perfect for warm or cool weather – layer up or down
Made to wick sweat away from the body – helps your skin breathe easier
Designed to keep you warmer in the winter months, dry and cool in summer
Ideal for exercise or sports as the fabric keeps you cooler and fresher- for longer
Make the switch to high performance fabric – style has never been so comfortable
Once you try Chaffree, you'll never go back.  Imagine the peace of mind knowing all day, wherever you go, you'll stay cool, dry and comfortable.  With our expertly designed underwear you'll never have to worry about embarrassing sweat patches or stains, and uncomfortable chaffing quickly becomes a thing of the past.  When it's colder, you won't have to wear excessive amounts of heavy clothing either, as the thermo-regulating high performance fabric adapts to your body's temperature, helping you stay warmer when you need to.
Point your browser to www.chaffree.com and check out our sleek, streamlined range of high performance underwear that's been specially designed to help your skin breathe-whatever the weather.
Stay cool, Stay Comfortable.