Description
Dare we say that we have found your ultimate grab and go leggings? We know we are certainly delighted with the feedback our new leggings range is getting. Words such as 'beautiful', 'amazing', 'my favourites', 'I never have them off' and 'I'll never look at leggings the same way again after wearing these'.
We are going one further with this super comfy legs pack as we also want your bum and feet to get the same luxury treatment. Our briefs will help you to feel sweat and chafe free and feel so comfy that you'll not even realise that you have them on. Our cushioned ankle socks will make your feet feel like they are walking on a new thick piled carpet!
Chaffree prides itself on helping people of all ages, size or gender overcome sweating and chafing all year round regardless of their daily lifestyle. Helping them to feel more comfortable and confident, whether they're running a marathon or living with a disability and in a wheelchair all day, or like many, trying to do 10 things at once! We believe that by making lightweight, breathable garments which offer you comfort as well as protection against sweating and chafing help to achieve this level of comfort.
All our products are tried and tested in every size/style before they are signed off for manufacture, so we know that the sizes are realistic and true to size. They are all made of the Coolmax® all seasons fibre.
This bundle is ideal for those ladies who are lovers of leggings whether that be for work, rest or play.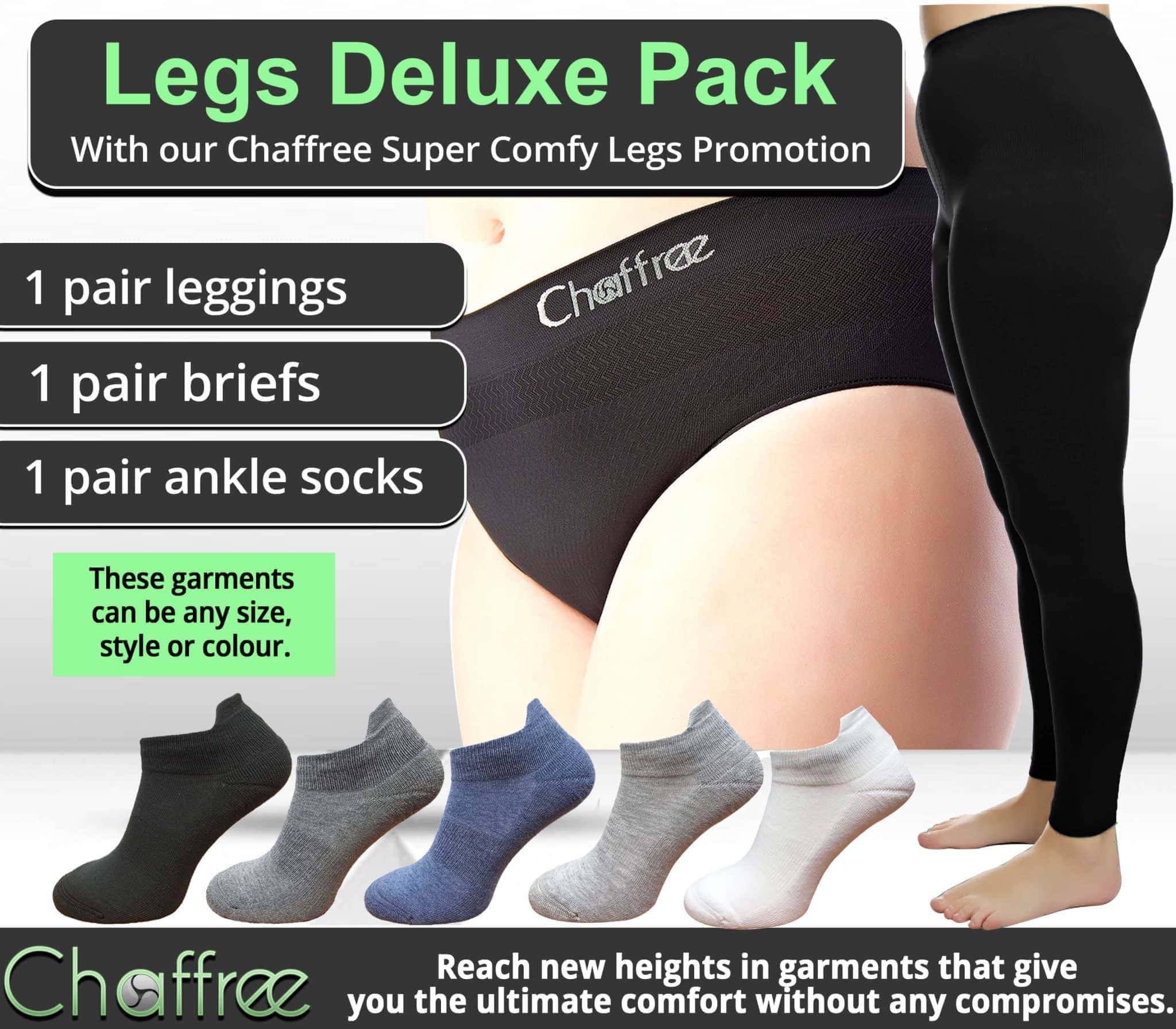 In this bundle you will get
1 Pair Leggings
1 Pair Ankle Socks Coolmax®
1 Pair Briefs (full or midi)
This is any style, size or colour. i.e. You can have midi or full waist briefs in any size or colour.
Having all these items to try will hopefully enable you to decide how much you love wearing chaffree. What works really well and what you want to buy more of.
How the underwear is giving you relieve from sweating and chafing and improve your overall comfort, helping you to feel happier and more confident in your clothes. Then you can buy more using our mix & match bulk discount offers (buy 3 items and start getting discounts for multi buys). We also offer free shipping anywhere in the world (minimum order amounts apply).
So grab yourself a bit of Chaffree comfort today and see how different you feel in your leggings and your undies. We know, if you're not comfy in your undies then you're not comfy full stop!
Please remember we are available 24/7 on online chat or telephone support and email support between the hours of 8am-10pm if you have any questions.