Put on your Big Girl Pants
When you're going for that run, big knickers will be your best friend…
Big pants often get a bad rap – they're rarely fashionable – and aren't usually seen as sexy.  If you're getting active though, like many of us are doing in lockdown, they can be a total lifesaver.
Whether you're attempting to go from couch potato to 5K champ, or just trying to make a daily jog part of your regular routine, it's important to be comfortable.  The last thing you need is underwear that cuts off your circulation, or makes your thighs chafe uncomfortably. When you're running, you need breathable, close, form fitting clothing that will support you and keep you cool when you get sweaty.
Tackle sore tummies with game changing pants
The good news is there's now a new breed of big girl pants that offers you comfort, breathability, and handy moisture wicking properties – and what's more they're stylish too. The sporty Women's Briefs designed by Chaffree.com might just change your mind about big pants entirely, with their sleek lines and seamless, smooth fit that's completely invisible under tight workout gear.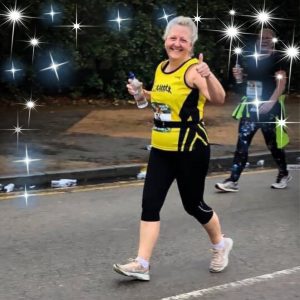 Made with advanced moisture wicking COOLMAX fabric, Chaffree's chic briefs keep you cool, dry, and comfortable, preventing unpleasant stomach chaffing and chapping.  They're silicone and latex free, with an antibacterial gusset for intimate well-being, so no itchy skin reactions, infections, or nasty allergic reactions.
You can select your ideal waist length – High if you need more coverage, or Midi, which cover your stomach but sit just below your belly button, and can choose from a selection of shades, including Mocha, Artic White, Black, and Blossom Pink.  You can even select your choice of standard or wide leg fits – allowing you to totally personalise your pants!
Now you can enjoy the endorphins you get from pounding the pavement without having to suffer chaffing from underwear not designed for high performance activity or the embarrassment of sweat patches on your outer clothes.
Arm yourself with underwear that ends thigh chaffing
If thigh rub is a problem for you, you can also combat it by layering up with the right anti-chaffing gear – like these Chaffree Women's Knickerboxers.  The precision tailored design gives a second skin feel, helping to prevent the painful chapping that occurs when your thighs repeatedly rub together.  Created using cutting edge COOLMAX, they feature an antibacterial wide gusset for comfort, while the advanced performance fabric wicks sweat away from your body. Like the entire Chaffree briefs range, they come in a choice of waist lengths, leg lengths, sizes, and colourways – making it super easy to customise your perfect pair.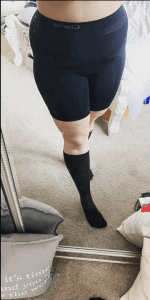 Ready, set, GO!
When you're running, it's important to be in the right mindset, as well as comfortable.  It can be hard to get motivated – and even harder to stay focused. As well as pulling on a pair of breathable underwear, there's several other things you can do to make sure you're properly prepped, comfy, and inspired.
5 fab ways to get prepped for that run
 Turn up the music. If you need help getting motivated, why not try making a playlist of your favourite upbeat tracks, then streaming it on your phone when you're running?  The right music helps you get going when you're feeling like staying on the sofa and can even keep you running for longer.
Get the right support.  When you're running, your boobs need some extra support, particularly if you're anything above an A cup. Make sure you get a sports bra that fits right and is made from quality, breathable material.
Don't forget your feet.  Your feet take most of the impact when you're sprinting, so you need to give them the right assistance.  Pick a pair of cushioned sports socks that won't make your feet sweat but will prevent painful blisters.
Tape it up.  Running takes a huge toll on your knees, and sometimes they'll need some extra help.  Knee tape offers essential support to your joints and prevents injuries and sprains.
Chew on it.  Gum keeps your breath fresh and gets your saliva going, plus the rhythmic chewing action helps you stay focused. Select your favourite flavour and give yourself a little treat as you pound those paths. Mints are also a great alternative to prevent  dry mouth which is a common problem runners experience. By keeping your mouth closed (to keep the gum/mints in) encourages the runner to control breathing through their nose and help stay hydrated thus re-establishing saliva flow.
Donning a pair of specially designed pants like Chaffree's helps you improve your comfort level so you can run or walk for longer – without experiencing uncomfortable after-effects.  You can personalise your own pair of Chaffree women's briefs here or browse the full line of Chaffree underwear at www.chaffree.com